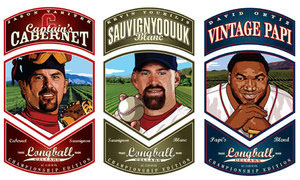 David Ortiz
,
Jason Varitek,
and
Kevin Youkilis
have joined the line up of sports figures with their names and images on a bottle of wine. As you may remember, last year
Kurt Schilling, Manny Ramirez
, and
Tim Wakefield
launched their own labels. This year
Ortiz, Varitek,
and
Youkilis
have collaborated with
Charity Wines' Longball Cellars
label to raise money for their favorite charities. This year's wine will come from
Selby Vineyards
in California.
Last year's wine was from Chile. For each bottle sold, $1.25 goes to the athlete's designated charities. The players make no money from the sale of the wines.

David Ortiz's "Vintage Papi," a blend of Merlot and Cabernet Sauvignon, will help the David Ortiz Children's Fund which offers medical care for children in the Dominican Republic and New England.


Jason Varitek's "Captain's Cabernet," a California Cabernet, benefits Pitching In For Kids and Children's Hospital Boston. Proceeds from "Captain's Cabernet" give breaks to special kids. Pitching in for Kids provides grants that improve the lives of children across New England. Funds have been earmarked to support Children's Hospital Boston, as well as other worthy causes. For more information, visit http://www.pitchinginforkids.org/ or http://www.childrenshospital.org/.


"SauvignYooouuuk Blanc," a California Sauvignon Blanc, will benefit Kevin Youkilis' Hits for Kids which is dedicated to rallying local and corporate support and awareness for charities and organizations focused on the health and well-being of children. Funds will benefit kids in New England and in Kevin's hometown of Cincinnati. Learn more at http://www.youkskids.org/.


We look forward to trying these wines this spring. We are excited that the wine is from California. The Schilling Schardonnay was our favorite last year. I wonder which will be our favorite charity wine this year? The wines are expected to be available at local retailers and restaurants the second week in May. The local retail price is expected to be $13.99 per bottle. Colonial Spirits of Acton, MA will offer the Red Sox wines at their release. Or, check out http://www.newenglandspirits.com/ for convenient, online ordering.

Go Sox!

Cheers, Theresa and Ken