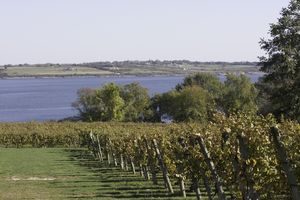 The Feast in the Field - Inaugural Dinner, a Rhode Island Center for Agricultural Promotion and Education (RICAPE) Event, will be held on Saturday, August 9, 2008 in Portsmouth, Rhode Island
from 6PM-10PM at Greenvale Vineyards,
582 Wapping Road Portsmouth, Rhode Island. Admission is $125 per person. Seating is limited to advance ticket holders.
Reserve your tickets now
.
Saturday August 9, 2008 Event Highlights:
6:00PM
Appetizers and Sakonnet River Splendor
Owner's tour of the Vineyard overlooking the Sakonnet River
Passed hors d'oeuvres with local wine pairings
7:15Dinner is served in the Vineyard's historic barn and tasting room.
A four-course dinner highlighting local seafood, meats and seasonal produce
paired with wines from Greenvale, Newport and Sakonnet Vineyards
, completed with a seasonal assortment of fruits and artisan cheeses.
The culinary experience features classical elements and the innovative techniques of
Chef Glenn Place
and
Executive Chefs Chris Kurtzo and David Sundberg of Tom's Market Catering
in Coventry, Rhode Island. To take advantage of the freshest ingredients, the menu will be adjusted according to the seasonal availability at the time of the dinner.
Wine and food pairings by Wine Entertainment Resources.Feast in the Field is a series of culinary experiences held at Rhode Island's unique agricultural settings.
This evening's Feast will benefit Rhode Island FarmWays
, a special initiative of the Rhode Island Center for Agriculture Promotion and Education (RICAPE) dedicated to assisting farm operators to develop visitor experiences that showcase the history, culture, ecology and beauty of Rhode Island's farms.
Contact Rhode Island FarmWays.
For more information,
click here
.